Important Times
Box Office: 9:00 AM
Team Shop: 10:00 AM
Shuttle service: 4:00 PM
Free transit: 3:00 PM
Tailgate: 4:00 PM
Gates open: 5:00 PM
Player warm-ups: 5:08 PM
Kickoff: 6:00 PM
My Season Ticket Card
Use your season ticket card just like you would a normal ticket. Present your card to the ticket taker when you arrive at TD Place and they will scan the card's barcode.
Your season ticket card also serves as your season ticket membership ID card. Present your card at TD Place merchandise stores to receive 10% off regular priced merchandise.
Lastly, your card will get you access to complimentary public transportation to and from REDBLACKS games on OC Transpo and STO before and after the game (three hours before kick off and three hours after the final whistle).
For a complete guide on using your new season ticket card, please click here.
Contact Us
FAN INFO PHONE LINE: 1-844-326-4636
FAN INFO TEXT LINE: 1-613-777-6759
FAN INFO EMAIL: info@tdplace.ca

REDBLACKS Tailgate
You're invited to the Budweiser King Club at 4PM! Swing by Gate 6 (enter through Gate 1) for the best tailgate in town, featuring DJ Emmett.
Lansdowne is Live!
Lansdowne has over 30 shops and restaurants open for business, events in the 18-acre park, concerts, sports, and the Ottawa Farmers' Market every weekend.
To visit the Lansdowne Live! website, please click here.
To view an interactive map of Lansdowne, please click here.
In-Game Entertainment
Tailgate/Entrance Giveaway | TELUS headbuffs
Tailgate | DJ Emmett
National Anthem | Stephanie Bullock
Halftime | Henry Burris Ceremony
Coin Toss | CarStar and Cystic Fibrosis Canada
Rev Up RNation | CTV Morning Live Crew
Post-Game | Fans on the field
Traffic and Weather
TRAFFIC
For up-to-minute traffic updates, please visit the City of Ottawa Interactive Traffic Map.
You can also follow traffic advisories on Twitter here.
WEATHER
For the latest weather forecast and conditions, including weather maps and more, visit The Weather Network.
Alcohol Management
We work hard to promote safe and responsible consumption of alcoholic beverages. Any guest in the possession of alcoholic beverages on the premises may be requested to produce proper ID. Any guest who produces false identification or who passes alcohol to a minor may be subject to charges and possible eviction.
Take Transit
TRANSIT ADVISORY
Please note, OC Transpo Bus Route 1 has been renumbered as Frequent Route 6 as the city prepares for the unveiling of light rail next year.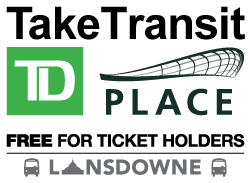 Your Ottawa REDBLACKS ticket gets you free service on OC Transpo and STO, from three hours before the opening kick-off until three hours after the final whistle.
Need Transit Information?
Visit OCTranspo.com for route info and transit times.
REDBLACKS MERCH SPECIAL
For a limited time only, get your very own Big Joe bobblehead for only $20 at the Team Shop and retail locations throughout TD Place. For every bobblehead sold, CarStar will donate $10 to Cystic Fibrosis Canada.
The Team Shop will also have Henry Burris jersey t-shirts available in honour of his special evening.
50/50 Raffle
Tickets are sold via kiosks and personnel moving throughout the TD Place. To learn more, please click here.
This week's 50/50 raffle benefits National Capital Amateur Football Association.

Free Wi-Fi
TELUS provides FREE Wi-Fi throughout TD Place.
Go to your Wi-Fi settings and ensure your Wi-Fi is enabled.
In your list of available networks choose: "#TELUS" (No password required)
Enter your email address and you're good to go!